Vertagear S-Line SL4000 Racing Series Gaming Chair - Black/White (Rev. 2)
by Vertagear
SALE
This product is not available
Designed to give wide range of adjustability, SL4000 provides gamers the best comfort and support in every gaming position for extended period of time . Tall back rest is designated for neck, shoulder and lumbar support.
Effortless Assembly
The Vertagear S-Line comes with a patent pending mechanical structure that requires no more than one person to assemble.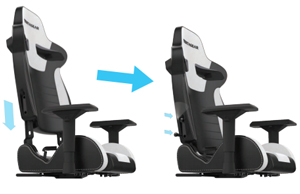 PENTA RS1 Casters
All Racing Series chairs are equipped with our Penta RS1 casters. The custom racing style casters are coated with PU for soft and smooth gliding on any surface. (color matching chair)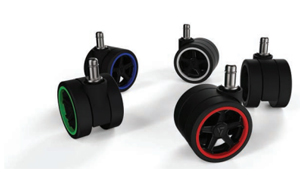 Solid Structure
The Racing Series chairs are constructed with steel frames for a durable complex. The 5-star base is composed of heavy duty aluminum alloy for lightweight stability.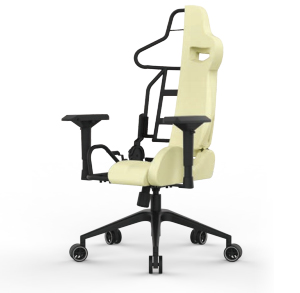 Comfort Padding
For comfort and support, high density foam is used for the padding of the Racing Series chairs. An open-cell structure helps keep the chair cool and prevents heat build-up.
Uniformed Aesthetics
While our competitors are still trying to make better looking plastic side covers, we completely decimated them. With our patent pending mechanical structure, we arranged all necessary parts inside leather cover to provide users a uniformed aesthetics. Users no longer need to align a tiny screw through a thick plastic cover with the tread buried deep inside leather and foam.
SL4000
V1 vs V2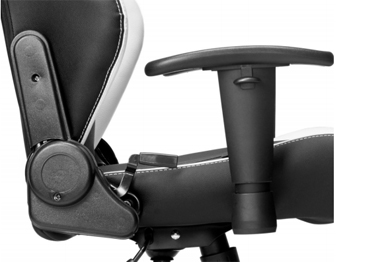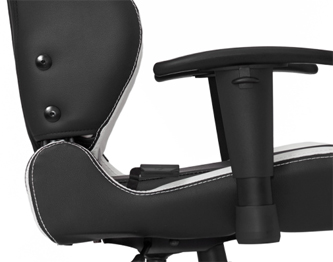 Tilting with adjustable resistance and locking system
By turning the knob under the seat, our tilt tension can be increased or decreased to match your weight. This allows you to rock or tilt comfortably.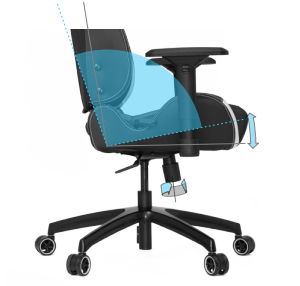 Adjustable Seat Height
To prevent repetitive stress, having the correct ergonomic posture is important when sea ted for long time. Seat adjustability enables users to adjust height to their unstressed posture. Good range of height adjustability ensures that you can be at the optimum angle in relation to your desk .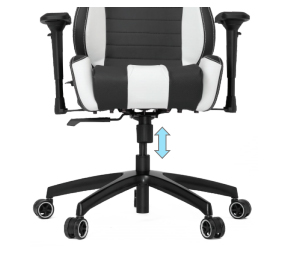 Adjustable Backrest
Either leaning forward during intensive show down, or reclining backwards to relax, we have you all comfortably supported. Our backrest can be adjusted from 80 degrees up to 150 degrees for 80° to 150° your ultimate sitting experience .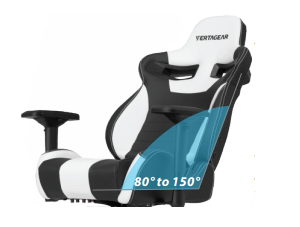 Adjustable Armrest
Cushioned and contoured to the shape of the arm with adjustability in 4 directions gives support to the gaming arm in every position and prevents repetitive stress. Ergonomically designed to provide support to the forearm, relieving muscle strain and fatigue from the shoulders and taking pressure of sensitive areas of the wrist.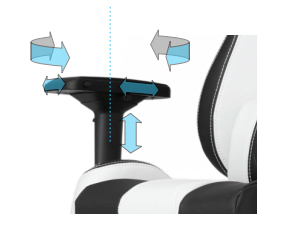 Extra Accessories
Headrest and lumbar support cushions are provided for your comfort.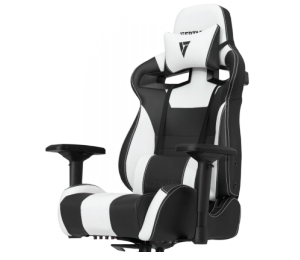 Dimensions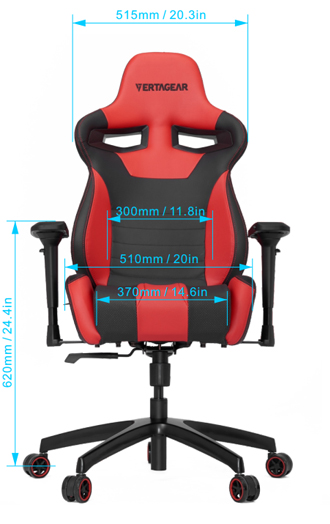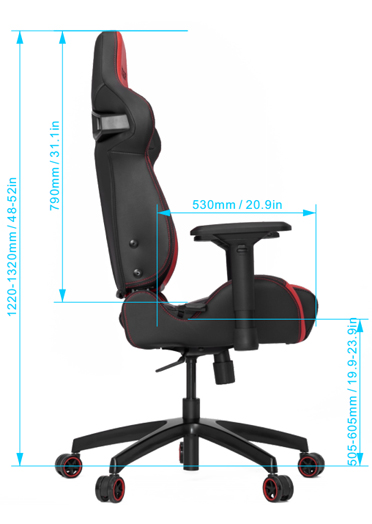 Specifications
Model
VG-SL4000
Package Dimension
84 x 71 x 41 cm / 33 x 28 x 16 in
Colors

Black Edition
Blue / Carbon Black / Green / Red / White
White Edition
Black / Blue / Green / Red

Overall height (incl. base)
1220-1320 mm / 48-52 in
Max Load
150 kg / 330 lbs
Width backrest (shoulder)
515 mm / 20.3 in
Materials
Steel (frame), High Density Foam, PVC Leather, Aluminum Alloy (base)
Width backrest (lumbar)
300 mm / 11.8 in
Casters
Racing Series Penta RS1 Casters 65mm
Width seat
510 mm / 20 in
Gross Weight
32.5 kg / 72 lbs
Depth seat
530 mm / 20.9 in
Net Weight
26 kg / 57 lbs